I love comics, but having talked to some of my fellow comic movie loving college girls I noticed many weren't sure what to read or where to start. Comics, as we've talked about before, can be really difficult to get into. There's so much history! Luckily all is not lost and comics are slowly becoming more accessible to newer fans. You can buy comics in a traditional brick and mortar comic shop, digitally through publisher sites, digital stores like Comixology, or even through apps.
Here's a list of three comic books that every college girl should give a try. They're a mix of genres, and publishers, but all something I believe any college girl can learn to love and love to read.
Batgirl of Burnside written by Brenden Fletcher, Cameron Stewart with art by Babs Tarr
Before DC Comics rebooted their line comics Barbara Gordon had been paralyzed by the Joker in Alan Moore and Brian Bolland's The Killing Joke and became Oracle. A computer genius who ran an information network for superheroes and leading a team known as The Birds of Prey. After the reboot Barbara is once again Batgirl, and after a series of unfortunate events, leaves Gotham for Burnside.
Batgirl of Burnside showcases a new take on Batgirl that is enjoyable and fun to read for both college girls, their little sisters, and their children. The story takes place after Barbara has left Gotham City to finish up her college degree in the city of Burnside. There she faces off with a colorful array of villains who challenge her wits, detective skills, and cunning all while juggling the life of a young college woman. Batgirl of Burnside's supporting cast is made up of a diverse cast of women, people of color, and lgbtia characters. There's a sense of fun, freshness to the series, providing a well drawn look at what life might be like if you were a college girl doubling as a superhero.
Ms. Marvel written by G. Willow Wilson with art by Kris Anka
On Marvel's side comes the story of Kamala Khan, better known as Ms. Marvel. The original Ms. Marvel was Carol Danvers who has now taken up the mantle of Captain Marvel. You might recognize the name as Captain Marvel is one of the upcoming movies being released by Marvel Studios and Disney in 2018.
Kamala Khan is this generations Spider-man. A young Muslim teenage girl who accidentally gets superpowers and is inspired by her greatest hero – Captain Marvel – to fight and protect her city. Throughout her series Kamala goes through the ups and downs of superhero life. From creating her own costume, to facing her first villain, and finally, meeting her first real superhero.
Ms. Marvel is a great look at how a modern day teenager would deal with superpowers. The series is brand new as well, so for new readers it's not at all difficult to follow. Ms. Marvel also includes various cameos from some of Marvel's other big named heroes such as Wolverine and of course, Captain Marvel herself. If you loved the Spider-man movies, chances are you'll love Ms. Marvel.
Jem and the Holograms written by Kelly Thompson with art by Sophie Campbell and M. Victoria Robado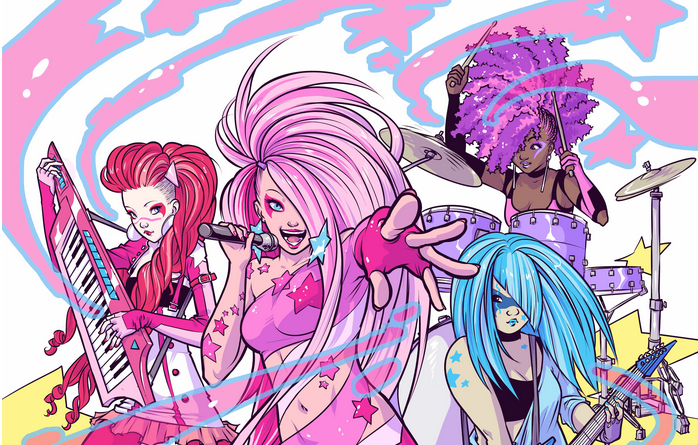 Anyone remember the 1980's television cartoon Jem and the Holograms? Well comic publisher IDW has brought them back in this brand new comic series. Right off the bat this series starts off with a splash of color in your face. The art has been praised around comic media sites for it's bold usage of color and line work by Kelly Thompson, and the quick and clear writing talents of Sophie Campbell.
The cast is majority female characters, with a mix of different body types, races, and sexualities. It's a brilliantly diverse book that focuses on a wide cast of female characters making their way into the music business. Jem and the Holograms is a great updated tale of the popular 80s cartoon that's sweet, and simplistic, while not being watered down or spoon fed exposition. The series is easy to follow, and very new so it won't be hard at all for a new fan to jump in and give it a go. Furthermore it's a great comic to share with your kids, cousins, or younger sisters if you have them. Did I mention the art is also fantastic?
And that's it! Here's three comics every college girl should read. Something a little DC, a little Marvel, and a little indie, with a mix of genres, art, and tone hopefully you can find something for you!